We had breakfast at Café Vettro one wonderful morning while we were in Las Vegas. Café Vettro serves my favorite dishes in a casual and contemporary environment.
I love smoked salmon, on bagel, so it's no surprise I ate that. I like their modern take on this classic dish.
We also had an order of their Sausage and Biscuits and this was pretty classic. The food here is absolutely amazing!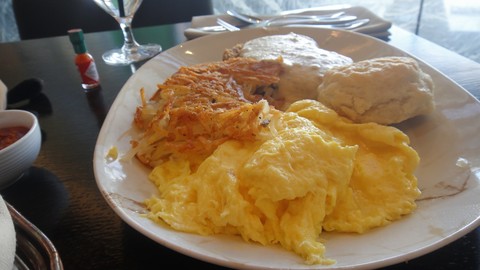 The view was quite interesting, as we looked out towards the roads leading to the lobby. It's not ugly, but it was interesting! The environment is really calming with the colours and the waterfalls down the wall. Garden areas and natural elements provide relaxing dining settings while terraced seating and floor-to-ceiling windows allow for stunning views at any hour.
The prices wasn't too bad at all, we were expecting a lot higher price tag to go with a 5-star resort… the lovely ARIA has put reasonable prices at all their restaurants, bars and lounges. I can't say that they're "good" in price, but I will say the food was good to make up for it!