I had the opportunity to try Pulled Pork at Wendy's as it's their promotion that is going on. I knew for sure I wanted to try their Pulled Pork Sandwich as I love pulled pork sandwiches as they're usually very messy and delicious. This one was definitely messy and it was quite delicious, although the pork itself could've been a bit warmer in temperature.
The sandwich is topped with the sauce of your choice, either smoky, sweet or spicy. We choose the smoky because it's more "authentic" in our eyes. It was a nice sauce with tons of flavour – but it was kind of like bbq sauce. The coleslaw wasn't very marinated yet and it was crisp and fresh though. It added nice texture to the sandwich. The bun was a brioche bun which was an excellent choice as it stood up the the sloppiness of this sandwich – the bun held up the entire time, although pork was falling out.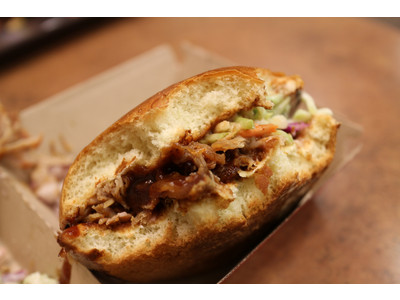 We also ordered their Pulled Pork Poutine as we wanted some fries. Poutine usually has gravy and cheese curds on top, and semi melted. Here, the pulled pork wasn't hot enough for whatever reason was what we figured out, so the cheese was still really cold, instead of soft or gooey. The flavours was awesome though, we really enjoyed it and we would have enjoyed it a lot more with it being hotter. I did find there was too much onions on top – so I did fling some aside to make it more enjoyable of a side dish.
Overall, it was a fantastic dining experience and we thoroughly enjoyed the pulled pork from Wendys. I probably won't change anything at all as it was really quite tasty. I'm sure we'll be getting the poutine again – and it seems like some people call them cheese fries! Which ever they're called, they're delicious and would be spectacular if actually hot in temperature!