We've been going to Toronto annually now for the last 3 years and we love it in Toronto. We stay at Radisson Toronto East primarily due to location. Each time we've stayed here, it seems to get better – so that's a major plus. One thing I noticed this year was the fact there was a guest parking fee now of $8! We never had that on our bill before.
We really like the location of this hotel as it's just off of Macdonald-Cartier Freeway (Highway of Heros – 401) and Victoria Park Avenue which are main arteries for easy commute. Our family lives in the area East of the hotel, and we're up at Pacific Mall a lot – so the location is just wonderful.
The hotel itself seems like a typical hotel, and it's been showing it's age every year. We've noticed slight modifications and effort to update the hotel, but I think it still needs more work.
The customer service at this hotel front desk is wonderful. They're always very accommodating and they take and respond to comments and concerns I address to them. The room we stayed in this year has been updated from the previous years, and the one thing that stands out more than anything else is the convenient single cup coffee maker in the room and a mini-fridge. I really like this feature in my room, as it was really nice and convenient.
Instead of 1 King bed in our suite this year, we had 2 queens, and both beds had the Sleep Number Bed systems which was easy to adjust for comfort. It was really neat as the smaller queen beds still offered a control for both left and right side of the bed, just as the king beds we stayed in previously.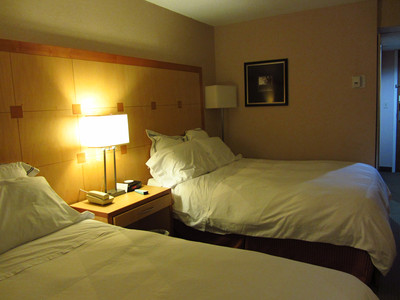 Overall, the hotel is a clean and comfortable place to stay especially with their newly updates to the hotel. The sleep number bed system makes a wonderful bed to unwind and caters to all guests.
Radisson Toronto East
55 Hallcrown Place
Toronto, ON
(416) 493-7000