We've heard really good things about a Vietnamese Restaurant named Bow River Vietnamese Restaurant which is located at the intersection of Elbow Drive and Heritage Drive. At first, we thought it as the larger strip mall complex at this intersection, but it is actually located on the main floor of the building across the street. Parking is quite limited, but we were lucky enough to have grabbed a parking spot.
The interior of the restaurant looks more like a Chinese restaurant, but it was fine. It looks like an authentic restaurant, as it feels like you're eating at home with their dining room chair selection.
We started with their Shrimp Salad Rolls which was surprisingly better than it looks! We've been to so many places where they premake their salad rolls, and I'm quite confident these are made to order.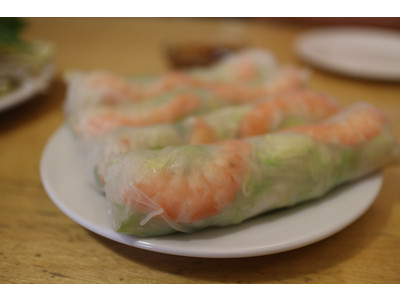 I normally order my usual – no matter where I go for a first time Vietnamese restaurant. If it's good, then I will go back and try something different! So, back to my Rare Beef with Beef Ball Pho and this was really good. Although not a lot of beef balls, it had a ton of beef. The broth had tons of flavour and it was even better enhanced with other sauces.
My other half had ordered his usual as well, the Rare Beef Pho and he really enjoyed it. They were basically the same thing, but we like to think it's different! The size of the orders were quite large and we were quite stuffed after this wonderful lunch!
Overall, we were pleased with this restaurant. The service was a little slow, as they weren't busy in the house. They did have a lot of take out orders, so they must've been running behind from it.
Bow River Vietnamese Restaurant
8408 Elbow Drive
Calgary, AB
(403) 259-6099