I've been looking for a good dry rib lately and when we came to Schanks Sports Grill I realized they had really good food! We stopped in on a Friday night and it was relatively quiet, but still had other people. The atmosphere was busy and spacious! Once we sat down, I ordered myself a Shirley Temple as it was fruity and something I wanted!
We tried their Garlic Soya Ribs for my rib mission. The waitress did advise us that they are salty, and they really were! The meat was tender and juicy but there was an overwhelming amount of saltiness to them. It's not bad and it does go with beer… but it wasn't what I was looking for.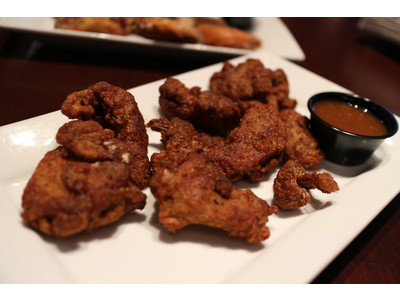 We did order some wings and we got to try their Lemon Pepper Wings and this we really enjoyed. The seasoning was really great and the skin was crispy, with a tender and juicy.
Overall, it's a decent place to go, but there are tons of other places along Macleod Trail that I'd like to try first before returning. It's not up my alley as I'm not into sports – but I can see the place being packed on important game nights!
Schanks Sports Grill
9627 Macleod Trl S
Calgary, AB
(403) 253-7300