I'm not usually in search for poutines, but this La Belle Patate was recommended to me while I was discussing about the fact I didn't get the opportunity to try the poutine stand at the Calgary Stampede as it was from a food truck in British Columbia.
We ordered a small order of Supreme Poutine which has onion, mushrooms and bacon on top of a bed of fries, cheese and gravy. It was really good, and the chunks of topping was generous and added so much flavour to the poutine. This poutine has set the bar high for all other poutines I may ever eat from now on! The gravy was really good, and it didn't taste store bought, so that's always a wonderful sign that they care for the food they prepare for their customers. This poutine had great texture and great flavour, and it wasn't hard to finish off the entire order of poutine!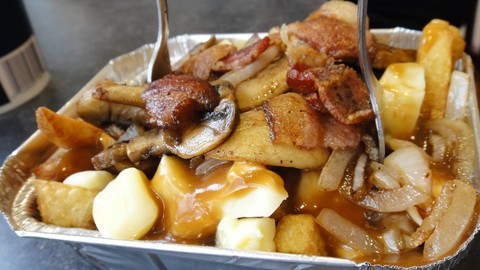 We also ordered a Montreal Smoked Meat Sandwich and it was massive! The meat wasn't too salty at all, in fact it was perfectly prepared! I find with most Montreal Smoked Meat, it just seems too salty, but I'm so proud of La Belle Patate that prepared it to perfection – It's a huge pile of smoked meat that was juicy and tender! These sandwiches are served on light rye bread, with a coat of yellow mustard which is the perfect vehicle for the massive amount of Monteal Smoked Meat, without any condiments that may take away from the flavour! They also served this sandwich with a Kosher Pickle that was crispy. This sandwich was so big that I almost wasn't able to finish it up, but from it's deliciousness, I ate the whole thing in spite of being over stuffed.
Finding this location was fun too, I just assumed that everything is in downtown Canmore, but this is actually tucked into their industrial area. I can see the location being quite busy during the week, but we went on a weekend – of a long weekend, and there were only a few tables – which is still really impressive as it's not located on the main road of downtown Canmore.
La Belle Patate
102 Boulder Cres Bay 4
Canmore, AB T1W1L2
(403) 678-0077